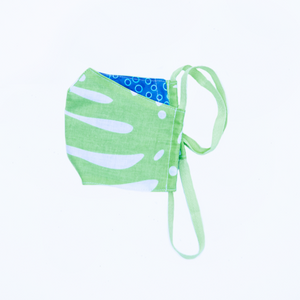 Our adjustable 100% Cotton face masks are sized to fit kids 3-12 (19" - 21" head circumference.) 
Each non-medical kids face mask features: 
Breathable  100% Cotton material
Reversible - with a fun green palm print on front and contrast blue fabric on back. 
Completely sanitize-able (i.e. no elastic band) construction.
Seamless dual-sided face (no seam down the front where germs can more easily penetrate)
A filter pocket to easily add a DIY filter. 
Wash Instructions: 
Wash before wear
Wash HOT 

Do not bleach.

Do not dry clean. 

If using filter, remove filter with clean or gloved hands and place in a sanitary container before washing. 

Face Mask filters should NOT be washed. 

Check out our

 

full wash guide here. 
Click here to read our blog post about masks and the research we've done. 
Need to learn how to tie the mask? (...you're probably doing it wrong). Check out our video for step by step instructions. 
NOTE: These are NOT medical grade masks. They do not ensure protection from viruses. These masks are intended for every day use as a sneeze/cough shield.  
Due to the sensitive nature and application of these products - face masks are final sale items and are not returnable. 
Print placement, backing fabric, and strap detail may vary from product photo.